Bruce Martin,
PhD
Adjunct Professor - Geography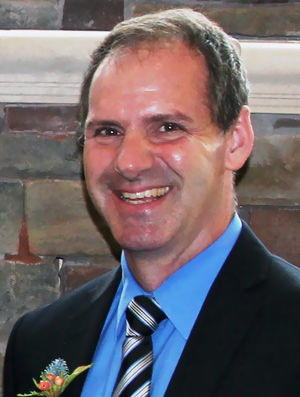 [javascript protected email address]
Bruce Teaches:

Geography 100
Geography 101
Teaching Philosophy
Education is a process of gaining knowledge (information), allowing that knowledge to shape who we are (formation), and then allowing God's Spirit to change how we live in the world (transformation). I continue to learn more and more about God and His amazing creation, and I seek to live out that growing understanding in my daily life. My passion is to help students discover how much we can learn about God through His Word and His world, and how they live that out in word and deed.
Background
My slightly odd life as a geography professor, pastor, educator, and artist is a reflection of my slightly odd education and interests. At the graduate level, I studied geography, theology, and education. Education, theology, and geography may seem like a curious combination, but they actually come together brilliantly in my own mind: I love integrating natural sciences, theology, pastoral theology, and Christian education into opportunities to explore and appreciate God and His creation, and to be involved in His mission to restore His relationship with people, between people, and between people and His creation. I also really enjoy the positive dialogue that can (and, I believe, should) be cultivated between science and faith. This is God's world. My Christian faith is rooted in God's Word. The two complement one another perfectly, enrich one another as we grow in our appreciation of God and His creation, and explore our role within His amazing world.
Education
Visiting Scholar, University of Cambridge (Faraday
Institute for Science and Religion)
Ph.D., University of Alberta (Education)
M.Div., Acadia Divinity College, Acadia University
M.A.. University of British Columbia (Geography)
B.A., University of British Columbia (Geography)

Research
Scientists experience in and contribution to congregations

Christian environmental ethics

Publications
Reviewer for Oxford University Press Physical Geography (Canadian edition) text (2022)

"Scientists in Congregations." Paper presented at Sea to Sea to Sky: Science and Christianity in Canada Conference, Trinity Western University, May 2018

Sustainable Development and the Kingdom of God. Missio Dei Volume 4, 2014

Pastoring in Pain.  Ministry Magazine: International Journal for Pastors. January 2010.

Lord of Lark and Lightning: Reassessing Celtic Christianity's Environmental Ethic.  The Journal of Religion and Society. July 2004.

Transforming a Local Church Congregation through Action Research. Educational Action Research 9(2).  2001. Pp. 261-278.

Sympathetic and Synthetic Faith.  A Rocha Canada News 8, July 2001. Pp. 2-3

We Live in God's Art Gallery.  A Rocha Canada News 2, January 2000. Pp. 1-2.

A Handbook for Congregational Leadership.  Calgary, AB:  Baptist Union of Western Canada. 2001.

'Living' education: Action research as a practical approach to congregational education. Religious Education 95(2).  2000.  Pp. 152-166.

Pastors' voices on pastoral education. Christian Education Journal 3 NS(1).  1999.  Pp. 91-108.

'No!  Not a shepherd!'  Who do pastors see themselves to be?  The Clergy Journal 74(4).  1998.  Pp.26-30.  (Note, the picture is incorrect!)

Guest editorial:  Urban ministry in Canada.  Urban Mission 15(1).  1997.  Pp. 3-8.  (I was guest editor for a special issue on urban ministry in the Canadian context).

Reinventing the parish church. Urban Mission 15(1).  1997.  Pp. 15-25.
Planning with God, planning with people. Canadian Baptist. October 1996.  Pp. 16-18.

Your church in your community: A handbook for planning effective mission and ministry.  Calgary, AB:  Baptist Union of Western Canada. 1995.

A bird's eye view of the Bible: An overview from Genesis to Revelation. Calgary, AB:  Baptist Union of Western Canada. 1994.

Religious belief in the post-industrial city. Social compass: International review of sociology of religion 40(2).  1993.  Pp. 217-232.  (co-authored with David Ley)