Grant Poettcker,
PhD
Associate Professor of Philosophy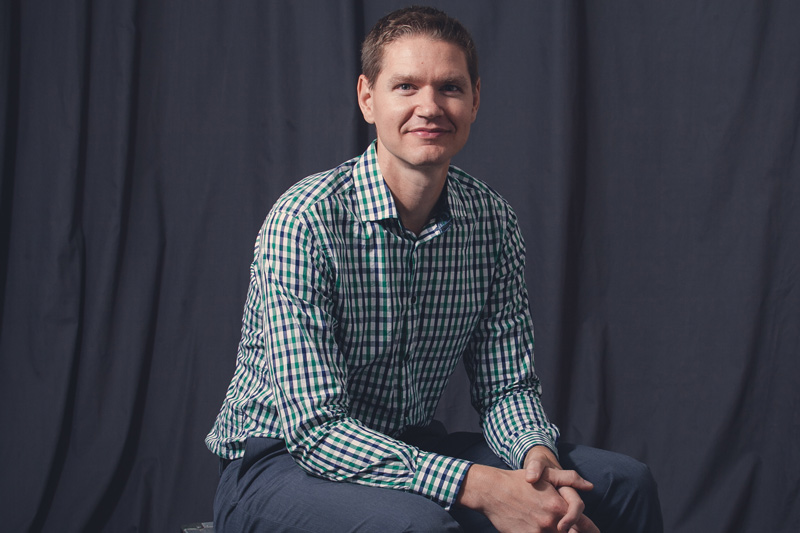 In an age of distraction and busyness, take the time to reflect on what really matters, and to wonder at the strangeness of everyday life.
[javascript protected email address]
Grant Teaches:

Modern and Contemporary Continental Philosophy
Ethics and Political Philosophy
Christianity and Culture
Philosophies of Human Existence
Teaching Philosophy
I understand philosophy as a dialogical process in which students and instructors seek the truth together by engaging the best accounts of truth, beauty, goodness, and being that have emerged in the philosophical tradition. This makes high demands on everyone involved; hermeneutical generosity and patience, mental discipline and care, and skill in verbal and written expression. However, the importance and high value of greater understanding makes the effort worth it.
Background
Grant was born and raised in Saskatoon, and is happy to return to the prairies after an eight-year stint in Ontario. His interest in philosophy was kindled during his time studying Bible and theology at Canadian Mennonite University, and the relation between philosophy, theology, and scripture remains one of his abiding concerns. In his teaching, Grant seeks to foster students' awareness of the broadly human traditions of reflection on ultimate value, on belief, knowledge, and truth, and to sharpen their perception of the way philosophical thinking is in play not only in technical philosophy books, but in cultural expressions like literature, music, drama, and the fine arts.

Grant and his wife Rosalyn attend St. Aidan's Anglican Church in Moose Jaw and have three children, Josiah, Alina, and Ezekiel.

Education
PhD, McMaster University, 2013
MA, McMaster University, 2007
BA (Hons.) University of Winnipeg, 2005
BTh, Canadian Mennonite University, 2002

Research
The ethics of peace and violence
Philosophy of technology
Theories of sacrifice and religion
Publications
"Reassessing Anselm on Divine Wrath and Judgment: A Girardian Approach for Mennonite Atonement Theology," in Conrad Grebel Review 32, no. 1 (Winter 2014): 80-90.
"The Messiah's Quiet Approach: Walter Benjamin's Messianic Politics," in Paul, Philosophy, and the Theopolitical Vision, ed. Douglas Harink (Eugene, OR: Cascade Books, 2010): 90-115.
Review of For Rene Girard: Essays in Friendship and in Truth, edited by Sandor Goodhart, Tom Ryba, Jørgen Jørgensen, and James Williams. Direction 39/1 (Spring, 2010): 123-125.