Hockey Battles for Playoffs
Posted: February 23, 2019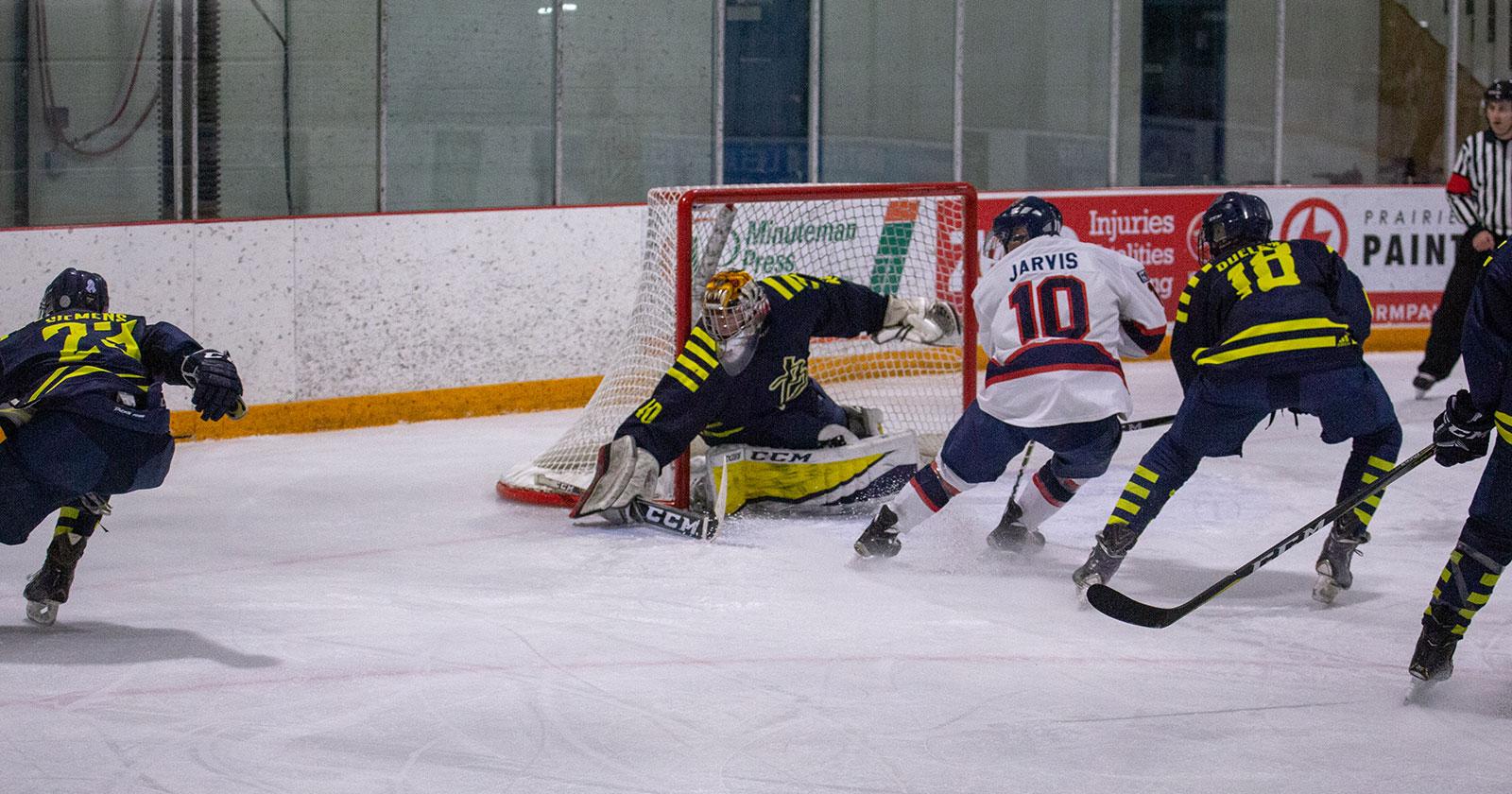 The Briercrest Clippers face of against the SAIT Trojans Friday night at Barkman arena. Briercrest looking to clinch a playoff position and beat SAIT.
The 1st period started fast for both team, playing both offensively and defensively well, Briercrest first to receive a penalty at 4:42, 2-minutes for high-sticking handed out to #18 Josh Boelema, Briercrest penalty kill is able to hold SAIT off and then SAIT player #19 Zach McNeill receives a 2-minute unsportsmanlike penalty at 9:10 giving Briercrest a power play opportunity. SAIT works hard to keep Briercrest at bay and their penalty expires. SAIT is the first to score late in the 1stperiod at 16:47; goal scored by #10 Colton McCarthy, assisted to #27 Dean Allison and #3 Sam Stormoen. The first period concludes with SAIT leading 1-0, shots on goal in favour of SAIT 21-15.
The 2nd period started out hot for SAIT, scoring their second goal only 1:21 into the 2ndperiod— scored by #26 Owen Laclare, unassisted. Briercrest is against first to receive a penalty, #7 Josh Mitton, 2-minutes for roughing at 9:54, Briercrest penalty kill worked for them yet again and they are able to hold SAIT at 2-0 for the penalty. SAIT follows suit and #7 John Flatters receives a 2- minute roughing penalty at 16:30, SAIT kills of the penalty and is able to extend the gap at 19:27,making it 3-0 for the SAIT Trojans— second of the night scored by #26 Owen Laclare, assisted to #18 Kevin Massy and #27 Dean Allison. The 2ndperiod concludes with SAIT winning 3-0 over Briercrest, SAIT with 36 shots on goal and Briercrest with 19.
The 3rd period starts out a little feisty with SAIT taking the first penalty 0:48 seconds into the third period, #6 Parker Evens-Campbell 2-mintues for slashing. Briercrest receive their first penalty not long after at 2:42, #20 Russell Olsen 2-minutes for hooking. Briercrest works hard defensively to keep SAIT from sinking another goal. SAIT draws another penalty on Briercrest player #21 Cale Kindrachuk, 4-minutes for spearing at 3:10, giving the 5-on-3 to SAIT. SAIT evens up the ice and receives a penalty at 5:35, 2-minutes for hooking on #9 Matt Houston. The ice surface is scrappy for the boys tonight, five penalties are handed out next at 9:15; Briercrest player #14 Austin Kozluk receives a 2-minute unsportsmanlike penalty, Briercrest player #2 Ryan Laird receives a 2-minute roughing penalty and a 10-minute misconduct, SAIT player #23 Tyson McCallum receives a 2-minute roughing penalty and a 10-minute misconduct call. Briercrest tries to get on the board and at 11:37 #5 Halen Cordoni scores their first goal, assisted by #24 Jake Gushue; closing the gap and making the score 3-1 halfway through the final period. The 3rdperiod chalking up to be a scrappy period for both teams, Briercrest gets called on roughing again, #27 Chad Davidson, 2-minutes at 13:53, and before that penalty can expires both SAIT player #19 Zach McNeill and Briercrest player #13 Ben Feere get called on goalie interference at 15:35. Again, before those penalties can expire, SAIT #23 Tyson McCallum gets a high sticking penalty, 2-minutes at 17:11. Briercrest tries to make use of a player advantage and pulls their goalie #40 Dan Dekoning, giving them a two man advantage on SAIT. Unfortunately SAIT grabs possession and #10 Colton McCarthy makes a center ice shot on an empty net and extends the lead to 4-1 for SAIT at 18:11. Briercrest player #14 Austin Kozluk and SAIT player #27 Dean Allison both receive unsportsmanlike penalty at 18:11. Briercrest keeps the net empty and SAIT grabs another goal at 19:15, empty net scored by #16 Eric Krienke, assisted to #10 Colton McCarthy and #26 Owen MacLare. The 3rdperiod concludes with Briercrest player #24 Jake Gushue and SAIT player #10 Dean Allison receiving misconducts at the end of the period. SAIT wins 5-1 over Briercrest, shots on the goal in favour of SAIT 53-34
Player of the game for the Briercrest Clippers #5 Halen Cordoni with one goal. Briercrest player of the game #5 Halen Cordoni said, "the first period [Briercrest] had more energy and were finishing checks and fore-checking, and that's why [they] were getting better chances. [Briercrest] needs to play a whole game like that to beat teams like [SAIT] who don't let up."